Oxygen Transfer Adapters allow the transfer of oxygen between two oxygen tanks with CGA540 industrial standard oxygen fittings. The user of Oxygen Transfer Adapter (OTA) should exercise maximum caution when proceeding with the transfer of oxygen gas from one pressurized oxygen tank to an other oxygen tank with lower or no oxygen pressure (empty tank).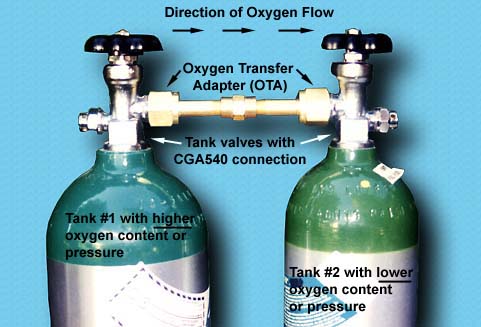 Oxygen Transfer Process:
Make sure that main valves located at the top of Tank #1 & #2 are properly closed.
Never transfer oxygen to a tank which was not used for oxygen, has compromised structural integrity, leaky or otherwise damaged main valve or shows any other signs of damage or possible abuse.
Check all CGA540 oxygen tank valve and OTA fittings for damage.
Clean carefully all oxygen tank valve and OTA fittings with dry & clean cloth.
Never lubricate with oil any parts of oxygen valves or oxygen transfer adapter
Lay both oxygen tanks on the floor to prevent tipping of tanks
Locate the INLET side of Oxygen Transfer Adapter with filtration inlay. Attach the side of OTA with filtration inlay to the Tank #1 - the source of oxygen. Secure fitting firmly.
Attach firmly OUTLET side of OTA (without filtration inlay) to Tank #2.
Open main valve at the top of Tank #2 (tank which will "receive" oxygen)
GRADUALLY & VERY SLOWLY open main valve at the top of Tank #1
Sound of rushing oxygen through OTA will clearly indicate the transfer of oxygen from one tank to an other. This process usually takes 10-15 seconds.
Close both main valves at the top of oxygen tanks #1 & #2. Disconnect Transfer Adapter.
Technical data:


Filtration:
66 micron filter inlay
Size:
L = 5.5"
DIM 1.25"
Weight:
0.25kg / 0.5Lb.
Wrench size:
29mm / 1-1/8"
---