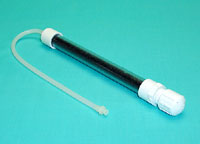 The OzoneLab™ Ozone Destructor is the last connection used in many applications. When ozone is passed through the destructor, it neutralizes the ozone into oxygen.
12" Long / DIM 1/2" cartridge
Granulated filling / Ozone is eliminated by catalytic reaction.
"OZONE-IN" 1/8" barbed fitting
Important note:
Ozone Destructor granulated filling is NOT BASED ON CARBON!!! Never replace with charcoal!!!
Operation Limits for "Standard" OzoneLab™ Ozone Destructors:
Maximum Flow Rate:
2LPM
Maximum Ozone Destruction Capacity:
3000mg/hr
Maximum Ozone Concentration:
200mg/l (14% by weight O3 in O2)
Temperature:
10-40 C
Pressure:
0-30 psi
Humidity:
0-75% RH
Ozone Services is able to provide custom made ozone destructors - please contact us for more information.

Vented Cap

Ozone Inlet
(1/8" barb fitting)

Ozone Inlet with attached ozone tubing
Custom Destructor Example
The below pictures illustrate how clients can double the capacity of our standard Ozone Destructor. Please contact us for more details.
---