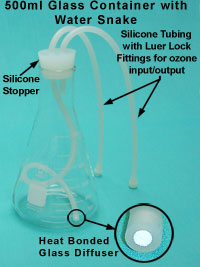 The Ozone Services Water Snake and Ozone Destructor (not included) makes the preparation of ozonated water very easy and safe:
no ozone off-gas will leak out from open containers
our Heat Bonded Glass Mini Diffuser will not disintegrate, therefore it will not release impurities into the water.
Technical Data :
Silicone stopper (Small DIM 1-1/16", Large DIM 1-5/16")
2 Ft silicone tubing with Luer Lock or Q-connector (female) "OZONE-IN"
1 Ft silicone tubing with Luer Lock or Q-connector (male) "OZONE-OUT"
GLASS MINI DIFFUSER (Special design. Diffuser is custom made for our company and it is inserted into the open end of the silicone tubing, therefore well protected against breakage)
500ml Glass Container (Standard)
1000ml Glass Container (Custom Order)
---
How to Prepare Ozonated Water
Ozonated water can be prepared by bubbling highly concentrated ozone gas trough pure water. Following are the basic guidelines:
Use pure water only (distilled, treated with R.O. or filtration)
Water must be as cold as possible
Use glass container to prepare ozonated water (tall & narrow container is better then short & wide)
Ozone bubbles must be as small as possible
Diffuser must be placed sideways or "face up" near the bottom of the container.
For best therapeutic results use freshly ozonated water.
Use an Ozone Destructor to prevent ozone escaping into the air.
Volume and Time
Almost all ozone generators will produce highest concentration of ozone with lowest flow of oxygen passing trough the system. Our OzoneLab™ ozone generators produce:
Ozone Output Information
OL80 Module (Single Stage)
Typical Ozone Output for single stage OL80 Ozone Generator
Flow
LPM
Flow
ml/min
Output
µg/ml
Output
[mg/hr]
0
0
0
0
1/32
31
0 - 161
0 - 299
1/16
62
0 - 131
0 - 487
1/8
125
0 - 93
0 - 698
1/4
250
0 - 57
0 - 855
1/2
500
0 - 33
0 - 990
3/4
750
0 - 23
0 - 1035
1
1000
0 - 17
0 - 1020
Note that we are able to provide Custom Ozone Output adjustments in the range of 10% - 100% of the Typical Ozone Output. Contact us for details.
Each ozone generator is tested and calibrated separately using 2" H2O back pressure.
OzoneLab™ instruments are designed for low flow/high output applications and are not suitable for flow rates above 1000ml/min due to the size of orifices in the ozone gas flow path. Gas Pressure is 0-3 p.s.i. (For applications dealing with higher pressures - please contact us for more info and/or consultation)
Higher ozone concentration will "charge" water with "stronger" ozone, therefore 1/32 flow rate with 154 gamma output will be preferable to 1/8 flow and 93 gamma ozone concentration.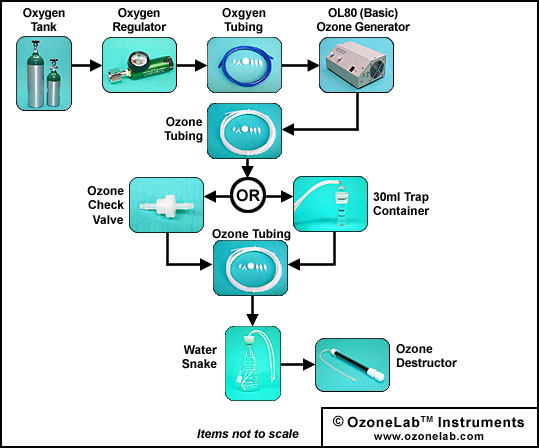 Our tests with "WATER SNAKE" suggest following:
Recommended flow rate for 500 and 1000ml Water Snakes is 1/32 and 1/16 flow and should deliver ozone concentrations 100 gamma +

Volume Liter
Volume US Gallon
Container Diameter
Less than 3"
Container Diameter
More than 3"
0.5
0.12
Minimum 15 minutes
Minimum 20 minutes
1.0
0.25
Minimum 20 minutes
Minimum 30 minutes
1.5
0.37
Minimum 30 minutes
Minimum 40 minutes
2.0
0.5
Minimum 45 minutes
Minimum 55 minutes
4.0
1
Minimum 95 minutes
Minimum 120 minutes
Mix occasionally water inside wider containers.
Flow rate 1/16 will cut the time needed for ozonation approximately in half, but levels of ozone dissolved in the water will be lower then with 1/32 flow.
---